March 28, 2014
The Making of the Suppressed Histories Archives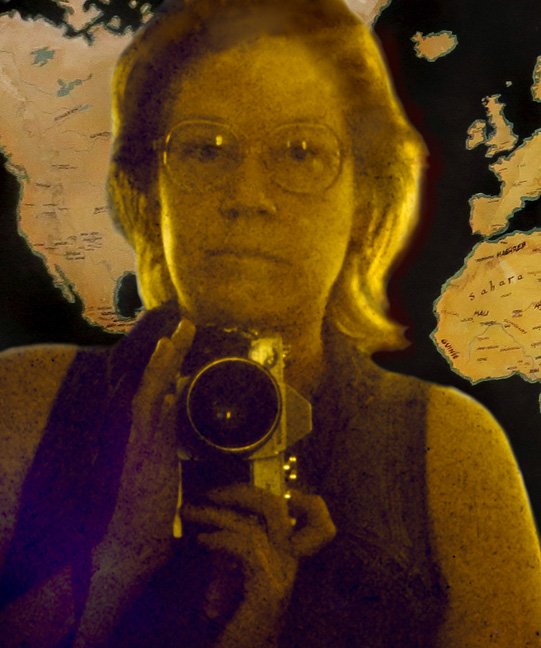 For forty years, Max Dashú has researched global women's history and cultural studies. Her legendary Archives now hold a collection of over 15,000 slides, with tens of thousands more images in hard copy and digital format, as well as text files, maps and books. Dashú has created 130 slide presentations: thirty are international surveys of topics such as Female Rebels and Mavericks, The European Conquests, andPriestesses. The others look at women's history by country or region, chronologically. She has done these visual presentations for all kinds of audiences, from feminist bookstores and community centers to universities, public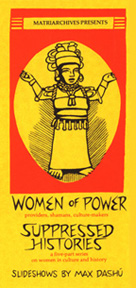 schools, libraries, museums, prisons, galleries, festivals, and conferences.
In the fall of 1969, in the midst of the anti-war  movement and with the ascent of women's liberation, Max Dashú left behind a full scholarship to began research as an independent scholar on global women's history, mother-right, patriarchy, and the origins of domination. Women's Studies did not yet exist, women's hstory was literally treated as a joke, and the academic climate was hostile to raising questions about women's status and the suppression of female power. Dashú began scouring libraries for evidence of women's leadership and other social patterns that fell outside the claimed universality of male domination.
She focused on the missing center of women from a global perspective, seeking to understand how domination worked in terms of gender, class and ethnicity. She intuited that the broadest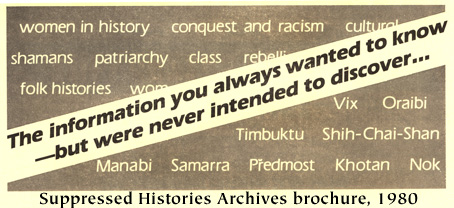 expressions of female leadership were retained in the Indigenous world, among the same cultures that had been disregarded and disparaged by classical scholarship, and this proved out. Women's leadership often crossed the boundaries of political, religious, economic, and artistic spheres as laid down in the classic "Western Civ" worldview. This pattern was one of many pointers toward a different cultural paradigm. And it is the oral histories of the aboriginal peoples that provide the substance of these suppressed histories and flesh out women's contributions and spheres of power.
Dashu's research in archaeology showed that neolithic iconography overwhelmingly emphasized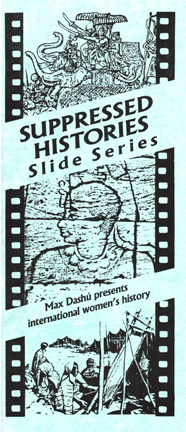 women, in a qualitatively different way than modern media. She found that women in indigenous societies typically had more freedom than women in feudal and colonial systems, and that all present-day matrilineages occur in indigenous societies. Abundant indicators showed that male domination of women correlated with domination by class, ethnicity, and other socio-political hierarchies. Historical patterns emerged of upper classes being more invested in patrilineage, multiple wives, and constraining women's bodies and behavior than commoners or indigenous peoples. That is why the Romans called the ruling classes patricians; why veiling and female seclusion began with the Indo-European elite, and why footbinding and corsets began with aristocrats, long before these customs spread to other classes and cultures.
Dashú found that public female spheres of power tended to concentrate in areas of spiritual leadership and, conversely, that banning the priestess was a keystone to deepening the cultural colonization of women through religion. A more profound level of domination was possible than could be achieved through violence and coercion, if only women could be induced to believe that their oppression was divinely ordained and to acquiesce to an idolatry of the masculine –and to all-male religious authorities.
Witch persecutions emerged as another pattern of attack against female power, solidarity, p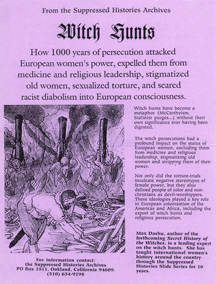 rotest and resistance. Persecution of medicine people was a crucial tactic of colonizers to break the spirit of countries they were invading. This repression went hand in hand with forced conversions and outlawing indigenous religion, or the spiritual practices of subordinated classes and peoples. Women shamans, diviners, and medicine women have often been at the forefront of liberation movements. (See "Priestesses and Political Power"  and Rebel Shamans )
In 1973 Dashú became historical consultant for Donna Deitch, who was then at UCLA, working on one of the first feminist documentaries,Woman to Woman. She opened up the opportunity to collect images from university libraries in southern California and to learn copy photography in the process. The result was the initial collection of about 300 slides, seedlings of the Suppressed Histories Archives.
Dashu got a camera and began to photograph more images. She created slideshows and presented them at women's bookstores, centers, coffeehouses. The first showing, Matriarchives, took place in 1974 at A Woman's Place bookstore in Oakland, California, backed by live music by Sandy Ajida, Kay Sato, and Cindy Fitzpatrick. The Women of Power presentation premiered at Full Moon Coffeehouse in San Francisco in 1975, and was also shown at Mountain Moving Café in Portland and Mother-Right bookstore in Santa Cruz. In 1976 this growing women's history collection took the name of The Suppressed Histories Archives. Year by year by year, thousands of new slides were added to the Archives, along with new articles, graphics and maps in the hard copy files.
Over the next three decades, Dashú continued to research and teach and archive historic images of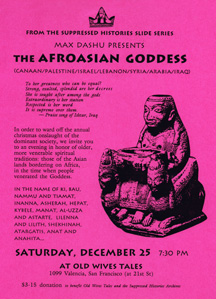 women. She investigated mother-right cultures, priestesses, female shamans, witches and the witch hunts, goddess veneration, Indigenous philosophies of spirit, female elders and chieftains; patterns of conquest and colonization, the role of captivity and slavery and class systems in developing patriarchy, and the uses of religion in intensifying male domination. She looked at patterns of racist and sexist bias in the way the archaeological  and historical record had been evaluated, and called attention to disregarded cultural riches in the Sahara, Ecuador, Sumatra, Indiana, Nubia, Siberia, Utah, Ireland, Ethopia, and Portugal.
Dashú began to present guest lectures at universities in 1981, while continuing to teach through grassroots venues: community centers, women's conferences and festivals, public schools and libraries, and the occasional prison, gallery, and museum. She presented at women's centers at Northwestern, Stanford, Princeton, UC-Berkeley, University of Wisconsin, and many other universities around the US. She gave keynote addresses at the Pagan Studies Conference at Claremont University (2008), the New Jersey Coalition for Battered Women (Rutgers, 2005), California State University at Chico (2000), Association for Women and Mythology (2009), and Women's Voices for a Change (Swarthmore, 2013). She presented at international conferences in Rila, Bulgaria; Glastonbury, England; Hambacher Schloss, Germany and San Marcos, Texas, and gave slide talks in Spanish at the Museo de San Miguel de Allende, Centro de Justicia Global, and other Mexican venues. She has presented at conferences of the National Women's Studies Association and the American Academy of Religion.
The Suppressed Histories website went online in 2000, reaching a vastly expanded audience. Today it attracts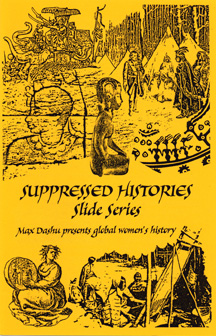 readers from every country and 80,000 hits a month. It features dozens of articles, book excerpts, interviews, and video clips from the dvds Women's Power in Global Perspective and Woman Shaman: the Ancients. Some articles have been translated into Dutch, French, Italian, and Hungarian on other websites. Others are available in Spanish on the SHA site, with more to come.
Dashú's critique of Cynthia Eller's The Myth of Matriarchal Prehistory has had an international impact since it was published in 2001–and later reprinted in the British journal Feminist Thealogy (Sheffield Press, 2006). Dashú was the first to stand up and challenge Eller's attacks on Goddess scholars at the Gender and Archaeology Conference in 2002. She follows some sixty scholarly listservs, corresponding with scholars around the world, and fielding queries from other researchers. She continues to present visual talks around North America, especially to grassroots audiences.
In 1978 Dashú began writing The Secret History of the Witches, a reconstruction of pagan European tradition, especially goddess veneration and female spiritual leadership. Her aim in this sourcebook was to investigate What Happened in Europe: to document how the European witch hunts arose and their cultural impact on women. By 2000 she had written 2000 pages of  manuscript, with illustrations and maps. In the decades since Dashú began writing The Secret History of the Witches, significant cultural turnings have occurred: a resurgence of Goddess reverence and, on a larger scale, Christian fundamentalism, church-state patriarchy and authoritarianism, and even new Crusades and torture-trials. This book will be a resource for the restoration of authentic cultural roots that predate hierarchical religions and to uproot the cultural poisons that continue to sow violence and destruction. Getting the first volume into print is the current priority for the Archives.
Meanwhile, the Archives is moving to digitize the slide collection, and to expand the image galleries, articles, and videos on the SHA website. Suppressed Histories Archives has attracted a large audience (130,000 at this writing) on the Facebook page, with daily posts of images, links, and information.
Suppressed Histories Archive : The Suppressed Histories Archives uncovers the realities of women's lives, internationally and across time, asking questions about patriarchy and slavery, conquest and aboriginality. About mother-right, female spheres of power, indigenous philosophies of spirit– and the historical chemistry of their repression. Even more important, their role in resisting oppression. A global perspective on women's history offers fresh and diverse conceptions of women's power, as well as of men and gender borders. It overturns stereotypes of race and class, and the structures of domination that enforce them. It digs under the usual story of lords and rulers, looking for hidden strands, and reweaves knowledge from the divided fields of history, archaeology, linguistics and folk tradition. So we cast a wide arc, looking for patterns and gaps and contradictions which, where vested power interests are at stake, are trigger points for controversy. Some of the flashpoints are women's power; neolithic female figurines; gender-egalitarian mother-right cultures; patriarchy; witch-hunts; "heresies" such as goddess veneration or shamans; and the rise and fall of empires, including the doctrines of supremacy and inferiority that prop up all systems of domination.